I have seen Archer's Voice by Mia Sheridan all over Bookstagram and when I started seeing reels sharing quotes, I knew I had to read it. This book was sitting on my Goodreads TBR shelf for way too long, and I am so glad I broke my book-buying ban for it. Mia Sheridan pulled at my heartstrings with this story, and I didn't want to put it down. From the character's backstories to their connection with each other, I found myself laughing, gasping, crying, and smiling.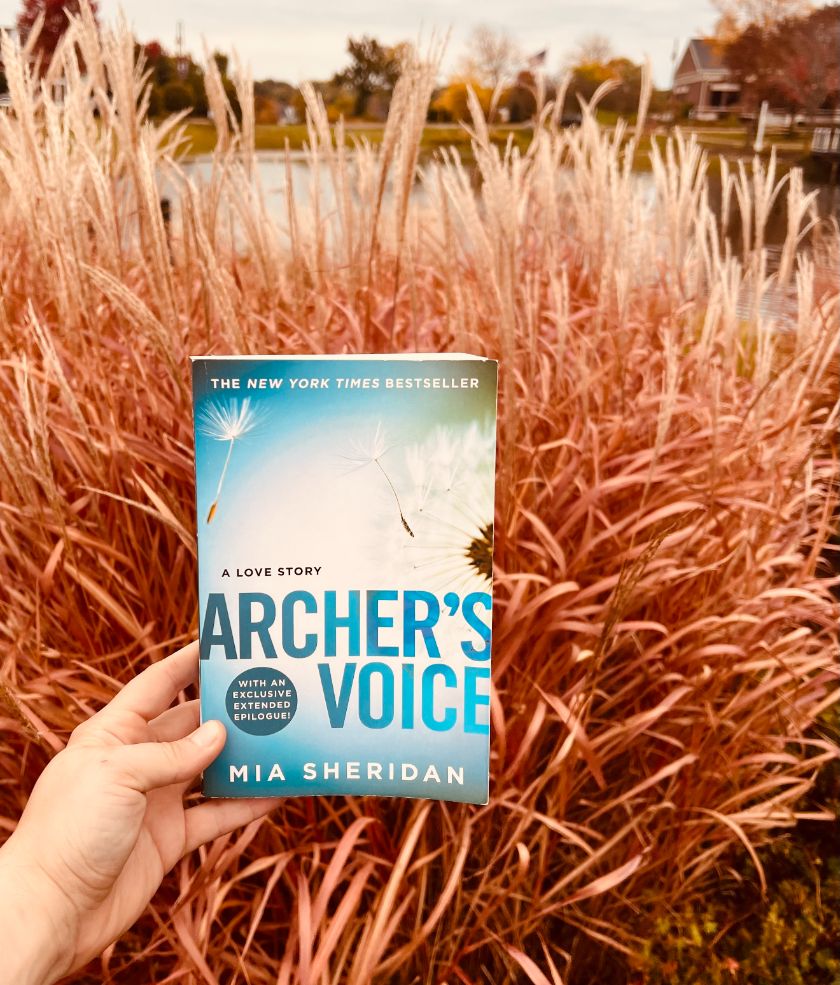 Synopsis:
Bree Prescot is running from a traumatic event in her past. She finds herself in the small town of Pelion, Maine, where she comes face-to-face with Archer Hale. People like to gossip and pretend they know him, but no one really knows anything about him. All Bree wants to do is escape her past and start over; she never expects the pull she has toward the silent man. The more she connects with him, though, the more she discovers everyone is wrong about him.
Archer has a past of his own and reasons for being silent. He's had a hard time trusting anyone until Bree came storming into his life. The connection he feels with her sets him on edge. The more time they spend with each other, the more he realizes she might be the one to set him free.
Together they learn to heal their own traumas while also healing each other. Archer starts to heal with Bree's patient, gentle nature. Bree begins to grow from Archer's kindness and attention. Throughout the book, the beautiful bond they create gets put to the test time and again.
---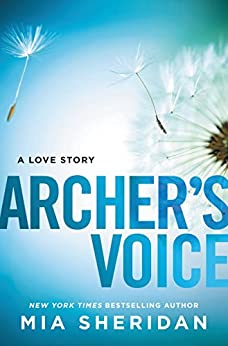 Archer's Voice by Mia Sheridan
Genre: Fiction/Romance
Bree escapes to a small town in hopes of healing from her trauma and ends up finding something more when she meets Archer. She is drawn to the man with his troubled past, not realizing that he might be the key to her healing. Together, they learn to let go of their pasts while creating a beautiful future together.
Read more reviews on our book index here
Buy this Book: Amazon | Barnes & Noble | Books-a-million | Audible
---
Review:
Bree was written so beautifully. Her character is a reminder of just how important it is to be kind to everyone, because you never know the internal battle they might be facing. She showed her strength repeatedly with Archer through her actions and words. She was able to heal from her own trauma and grow into the person she ended up being by the end of the book. Despite Archer's limitations, she still loved him with all of her heart and never gave up on him.
Archer absolutely broke my heart with his life's story. Here was this gentle, wonderful man who'd had the world turn on him for things out of his control. He was a man who took the blame upon himself when it was everyone else who had failed him. His love for and connection with Bree was truly inspiring. He showed not only Bree, but himself, that he was capable of anything he set his mind to. He just had to let go of his own shame to get there.
This was such an easy 5-star read for me.
What did you think of my Archer's Voice by Mia Sheridan Book Review?
Who are your favorite book boyfriends? Let us know in the comments, and keep reading to find out what some other bookish besties thought of this book! 
---
More reviews from our Contributors!
Chandler M.
I was so excited when a bookish bestie sent me a package, and I opened it to find Archer's Voice. This book has been on my TBR and all over Bookstagram for months.
Archer's Voice gave me all the feels. I loved the main female character, Bree. She had such a big heart and great personality. It was not surprising at all to me when she started reaching out to the local hermit, Archer. Bree's ability to speak American Sign Language is one of my favorite parts of this book. How she and Archer communicate, even though it is a language known by many, still seems like a language just for themselves. They communicate so openly, honestly, and meaningfully. It was truly beautiful. I also loved Archer. He was such a pure and kind person.
The ONLY reason I gave this book four-and-a-half stars was because I hated the part of the storyline with Travis and Archer, when Travis (Archer's "cousin") took him out for the night. It broke my heart and I wished that part was not in the book. Besides that, this book was one of my favorites this year. This book truly showed how everyone has a voice, no matter the obstacles you have been through.
Kelsey H.
Archer's Voice was a "Bookstagram made me buy it" purchase. I went into this with high expectations and it didn't disappoint!
This was so much more than a love story. Mia Sheridan delivered a beautiful journey of two people overcoming traumas in their own ways. Their background stories not only did tremendous work toward character development, but also made them feel like a fated couple.
I appreciated Sheridan's writing style and the way she split up the points of view. We get Bree's internal thoughts for most of the book. We get Archer's less frequently and because of this, it is a treasure each time.
Bree is kind, genuine, and exactly what the town needed. I was pleased how the storyline with her father connected some with Archer. Archer's storyline was heartbreaking. It was paced well, as we learn a little at a time what he went through as a child.
The characters truly felt right for each other. Their attraction was instant, but the trust and bond built over time were endearing to read.
The ending was perfect and not at all what I expected. I read the book with the extended epilogue and was left with a smile. I loved how it was wrapped up so beautifully and left no unanswered questions.
I enjoyed the overall message that every person has a voice. Sometimes we just need to find other ways to communicate and listen. Overall, this was an emotional, well-written story I think is worth the hype!
Nicki C.
Archer's Voice was a book from my vacation haul that I ended up reading immediately. After seeing this book all over Bookstagram and BookTok, I was sure I would fall in love with it and I was not disappointed.
This was a character-driven, heart-wrenching story about two adults learning to overcome and face their trauma. While I absolutely loved how trauma was handled within this book, it also broke my heart reading and discovering all that Archer went through that left him speechless and completely alone. On the other hand, while Bree was also not facing her own past and trauma, she was a relatable protagonist with a pure and loving heart. I loved how she saw through Archer's gruff exterior to the man who was hurting underneath.
Their infatuation with one another and the personal growth they experience made for a riveting story that was hard to put down. I loved that they could not rely solely on the other person to heal, but had to learn to heal themselves before they could really be together.
I recommend this book for anyone who can manage a little bit of pain with their romance story and loves some sweet and spicy love. Mia Sheridan brought these characters to life and made me want to immediately check out the rest of her books. 
Jennifer G.
Archer's Voice is exactly the kind of romance novel that speaks to my heart! I love the soul mates/fated lovers trope, but this book was extra special because of its powerful message. While it's certainly a story about finding one's voice, it's also about the healing power of listening – the kind of listening that comes from the heart and sees a person's soul and makes them feel validated and understood. I think anyone who longs to be truly "seen" will relate to and appreciate this book.
I absolutely adored both Bree and Archer. There aren't many books where I love both the main characters equally, but in this one I did. They were each struggling with their own painful pasts and carrying guilt over difficult choices made by others that they had no control over. But what really endeared me to them was how they showed so much courage in making conscious choices to work through their trauma in healthy ways.
Throughout their journey, and all of its ups and downs, Bree and Archer were so loving and patient with each other and showed a lot of emotional maturity. They also had amazing, swoonworthy chemistry! The spicy scenes were quite detailed and descriptive, but they were also sweet, tender, and full of passion. This book took me on an emotional rollercoaster ride, but it was absolutely worth it in the end!
I would recommend this beautiful New Adult romance to anyone who enjoys stories about the healing power of love. This will definitely be one of my new favorite comfort rereads.
---
Popular books from the author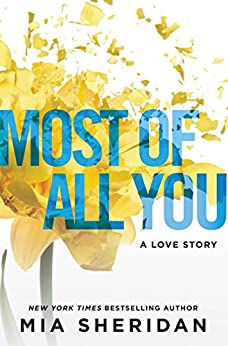 Most of All You by Mia Sheridan
Genre: Fiction/Contemporary Romance
Crystal learned a long time ago that love only ever ends in disaster. Then Gabriel walks into her life and, despite his edginess, there is something beneath the surface that calls to her. Together they learn to let their walls down to make room for something they both truly need.
Read more reviews on our book index here
Buy this Book: Amazon | Barnes & Noble | Books-a-million | Audible
---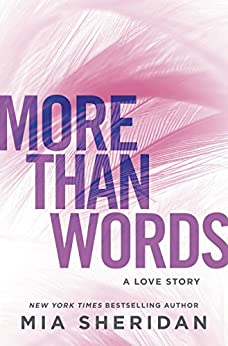 More Than Words by Mia Sheridan
Genre: Fiction/ Musician Romance
As a kid, Jessica Creswell knew something was special about Callen Hayes. One shared kiss between them was all she needed, but then he disappeared without saying anything. Years later he's back in her life. Secrets and old feelings come to the surface, and the possibility of love threatens to burst at the seams. 
Read more reviews on our book index here
Buy this Book: Amazon | Barnes & Noble | Books-a-million | Audible
---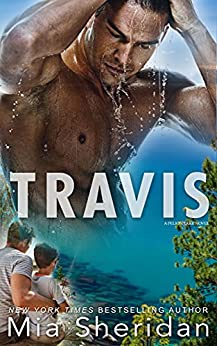 Travis by Mia Sheridan
Genre: Fiction/ New Adult Romance
Travis Hale, chief of police in his small town, has a family he adores, despite his fractured relationship with Archer. Haven Torres is trying to get her life back on track while also attempting to get the attention of her crush. These two create a unique friendship that could quite possibly lead to more.
Read more reviews on our book index here
Buy this Book: Amazon | Books-a-million | Audible