This post is all about A Match Made in Autumn by Jessica Booth Book Review.
We were given the opportunity to read this book by our fellow bookish bestie and debut author, Jessica Booth. We all are huge fans of autumn, so this was the perfect book to read to celebrate the fall season and help promote our fellow bookish bestie's novel. 
SYNOPSIS:
Amelia is working hard to bring new life back to the small town's fall festival. Easier said than done when the town witch is threatening to do everything in her power to sabotage it. What's worse is Amelia comes face to face with Rhett, a man she's been avoiding since the incident in high school over 10 years ago. Rhett has had a secret crush on Amelia since he was a kid, but one wrong move all those years ago ended any chance he would ever have with her. He now finds himself with a failed marriage and struggling to get his work mojo back when he comes across a cold case. Amelia and Rhett work together, causing old feelings to resurface.
---
A Match Made in Autumn by Jessica Booth
Genre: Romance Fantasy
The fall festival is right around the corner, and Amelia is in charge of making sure it goes off without a hitch. But when Rhett, her childhood enemy, shows up with one of the reporters to cover the festival, Amelia is thrown off her feet. Literally. 
Read more reviews on the book index here
Buy this Book: Amazon
---
Review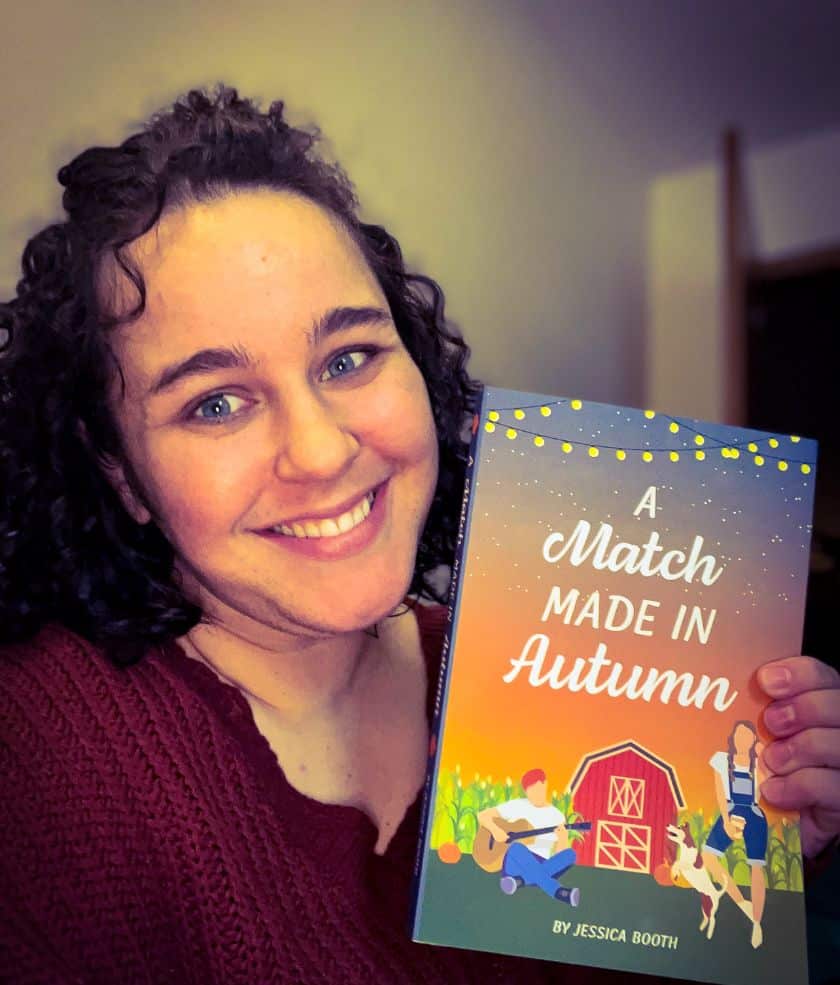 I wanted to thank Booth for allowing me to read her debut novel before it was released. I found myself captivated by the storyline and the subplots. I related to Amelia and her clumsiness, as well as her issues with anxiety. I felt that the author really understood mental health and how it can impact people's lives. Amelia learned to overcome her own insecurities and go for what she wanted. 
Rhett was a complete doll and you couldn't help but fall in love with him. His dedication to showing Amelia how he feels now and all those years ago caused some major swooning. I appreciated Booth's decision to make it a dual point of view because it can be so easy to judge a character more harshly when we only get one perspective. The event that happened back in high school was told through both perspectives, which made it easier to feel empathy for both characters and what they went through. This is the perfect book for fall and I found myself flying through it and finishing it the day I started. I look forward to reading more work from this author in the future.
More Reviews from our Contributors
Lindsey S.
I am so impressed by what Booth was able to accomplish in her debut novel. The book comes in at under 300 pages, and I was initially worried that the book would feel rushed or lack overall cohesiveness. But I was pleasantly proven wrong. Booth was able to take our main characters, Amelia and Rhett, from enemies to lovers in an organic, natural way that didn't feel rushed or unrealistic. I also loved that the story was told from both character's POV. Booth gave each character their own voice, so it was never confusing who was telling the story. 
There's also a thread of forgiveness and compassion that ties everything together, and a reminder that in order to move forward in life you have to be willing to let go of the past.
I loved the underlying plot of the mystery of the missing boy and the connection it had to Rhett, the town, and how it was resolved in the end. I do wish that it had been explored a bit more or played a larger role overall, but only because I thought it was such a unique plot line. That was my only "issue" with this book, but is it really an issue when a reader craves more from an author? I could have easily read another 100 pages about Rhett and Amelia, as well as the handful of beautifully crafted side-characters.
Writing a book is not easy, but getting lost in this book was. Grab a piece of apple pie, curl up under the blanket, and settle in for this funny, heartwarming novel that is full of southern charm.
Chandler M.
Excited is an understatement for how I feel about Jessica Booth's first book, A Match Made in Autumn. Even though I was fortunate enough to receive an e-copy from Booth, I couldn't help myself and had to order my own physical copy, too!
I absolutely loved this book. Fall is my favorite time of year, so it is no surprise that I was obsessed with the setting. I could feel the fall vibes radiating off every page. Amelia, the female MC, was such a fun character who is easy to relate to. When it comes to romance, enemies to lovers is one of my favorite tropes. Amelia and Rhett's romance was the perfect amount of spice and didn't feel rushed. I loved how A Match Made in Autumn was written from both Amelia's and Rhett's POV, which made me feel like I could relate to them more as individuals.
Some of my favorite scenes in the book involved Amelia's Aunt Margie. She had a fun personality, with a lot of spunk and didn't take any crap. She was a tough cookie, and I aspire to have her energy. I loved how she always had a flask on her and offered bourbon to everyone.
The best part about this book was that it was not just a romance, but a mystery. It pulls at your heartstrings, and leaves you feeling at peace with the story.